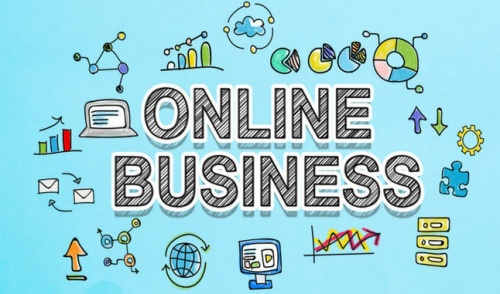 Technology and the Internet have changed our lives in many ways. One of its biggest effects has been opening up new ways to make money online.

Gone are the days when a 9-5 job or traditional business administration was the only option for most people to make a living.
These days, there are many options for starting an online business, which if implemented well can generate good income and speed up your financial independence.
Although there is no single way to start an online business, the seven basic rules of the most successful online business are listed below.
Tips for establishing online business in India - 7 easy steps
Identify the need and provide a workable solution to fill it out.

Designing and creating an attractive but easy to use website.

Write a compelling copy that attracts potential customers/buyers.

Take advantage of popular search engines and SM platforms to increase traffic to your site.

Work to create an expert reputation for yourself.

Follow up regularly with customers and subscribers by email.

Increase your income through additional sales.
Now that you know the guidelines behind creating any successful business online, it is time to decide on the nature of your internet business.
It is true that with so many options available today, the choice can be very difficult, but the best way is to first identify your strengths and then weave your business idea around them.
For example, if you like writing, you can try blogging or write independently online. If technology is your cup of tea, you have options like developing websites/apps.
If you follow a healthy style and boast a suitable body, you can try starting an online business of fitness training, and likewise, if you have great skills with people, then starting online education/guidance counseling seems like a good choice
Simply put, there is something for everyone when it comes to starting an online business in India or anywhere.
But if you're still confused, check out these 10 Best Online Business Ideas that you may like. If you find something you like or are good at, just go ahead.
10 ideas for establishing online business in India
Profitable online businesses in India


1. Blogging

Are you a talented writer with some experience/expertise in a specialized area (finance, technology, business, investment, cooking, etc.)?
If so, blogging can be an excellent online business in India, not only to share your experiences online, but also to earn money through proven methods like Google AdSense, affiliate marketing, and paid advertising.
The amount of money you earn is proportional to the amount of work you do.
There are some bloggers who work in moderation and earn enough money to make ends meet, while others have made this career full time and gained an attractive life out of blogging.
2. Language Translator

If you have a gift for languages, starting an online language translation company is another option you can think of in setting up an online business in India. You can start by browsing online platforms like Fiverr or Upwork for tasks.
Once you develop your confidence and business portfolio, contact famous bloggers directly to find out if they would like your blog, translated into another language, If they agree on this, then it can be a good source for you to earn good money through their language talents.
3. Online store

The e-commerce sector is booming in India, and you may be a part of it. Now you have two options here.
You can choose to start selling online in popular markets like Amazon, Flipkart, Snapdeal, ShopClues and Paytm or choose to open your own online store to set up an online business.
In the first option, you just have to upload your products and the websites will take care of the rest, for a large commission, of course.
If you decide to open your own online store, you can create your own brand and you will be responsible for everything from inventory and marketing to the end-user experience. Shopify is a platform where you can create your own online store.
If this sounds like too much, you can use online platforms like
Shopify
to help you create your online store.
4. The data analyst advisor
Do you have a solid background in subjects such as mathematics, economics, and finance? If so, data analyst could be an excellent choice for online business in India
In the digital age, big companies are increasingly looking for professionals who can analyze large amounts of big data for them. This is where you come in.
As a senior data consultant, you will help them decrypt a lot of data to reveal important information about buyer behavior, spending habits, geographical preferences and much more, which they combine to adjust their business strategies.
Given the fact that the offer was unable to keep pace with the demand for data analysts in India, you must be able to earn enough money to lead a somewhat extravagant lifestyle by providing your services to a large company.
5. Digital Marketing
Digital marketing includes the marketing of various products or services that use digital technologies on the Internet and digital platforms. If this is something you're good at, you might have the key to potentially winning money here.
While large companies already have teams dedicated to meeting the needs of digital marketing or outsourcing to external agencies, small and old school companies often do not have the same luxury.
By outsourcing your digital marketing requirements, you can save costs and make sure you compete for an equal digital platform with your biggest competitors, while you can choose your customers and earn money as a consultant.
6.
Image Advisor
In today's competitive world, projecting the right image is everything for professionals, celebrities and companies alike. This is why they are willing to spend large sums of money to hire someone with a proven track record in managing photos.
If you previously worked in the PR and/or Celebrity Management industry, it shouldn't be difficult for you to drop some famous names and brag about your knowledge of this industry to persuade potential customers.
The most requested image consultants are those who have a proven track record of success and an updated internal knowledge of the latest news and trends in this particular field.
7. Accounting services

The proliferation of online accounting applications, such as QuickBooks and Xero, has now made it possible for accounting professionals to work on an accounting file from anywhere and at any time.
This means that you enjoy approximately the flexibility to work with customers, less than the usual commuting inconveniences.
It is a fast trend in India, where many companies are seeking virtual accounting professionals services to keep their accounts for a fixed price.
It is an excellent choice for finance and accounting professionals who feel trapped in an office environment and want to work on their own terms.
8. Freelance writing

If you have a natural flair and talent for writing, freelance writing can be your ticket to starting a freelance writing business online.
As a freelance writer, you are expected to offer personalized content from blog posts and news articles to marketing-driven content that makes people take a form of work.
As an integral part of a company's digital marketing efforts, freelance writers with the ability to write high-quality copies, optimized for search engines, are in great need today.
It is not only a profitable business idea, but it can also work remotely and help companies consolidate their position in the market.
Finding relevant independent writing assignments is not difficult either. You can start registering on custom websites such as;
WittyPen
WhitePanda
Upwork
Freelancer
9. SEO expert

SEO or Search Engine Optimization is a vital area for any company that has an online presence. It includes the use of keywords in content that is synchronized with the most searched terms in popular search engines such as Google.
Thus, the website with the best SEO content is generally shown among the first pages of a related search engine.
While major companies enjoy the benefit of SEO teams that ensure your website stays above in search engine ranking criteria, most smaller firms cannot pay these expenses. , which places them at a clear disadvantage compared to their biggest competitors.
As an SEO expert, you can contact these firms and offer your services as an SEO consultant to fit the odds.
For companies, this could be an excellent way to level the playing field while earning money and adding more clients to your liking.
10. Start a YouTube channel

Did you know that starting your own YouTube channel is an excellent online business idea that can enrich it?
All you need to do is start a free video-sharing channel using the YouTube Partner Program. Then, record unique/creative videos on a good topic or topic.
Finally, follow the strategic promotion on popular social media platforms like Facebook and Twitter.
If some of your videos become viral or you get the minimum 1000 number of subscribers, then Google (which owns YouTube) will pay you to show ads on your video.
They can even show ads on their channel and you will get paid every time one of their subscribers clicks on them.
In short, the better your content, the more subscribers you attract, and the more subscribers, the more you earn with YouTube.
Image Source: vermashout
Also Read: MNC companies in India | Top Multinational Corporations in India