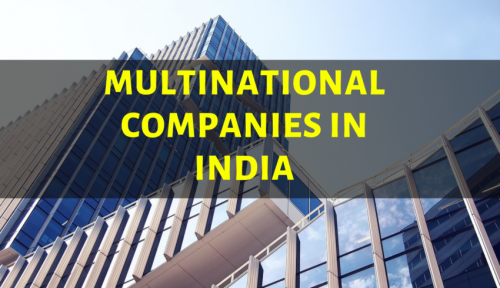 Every student or educated person dreams of working for a Multinational Company (MNC). It gives you the experience of moving internationally. Plus, here you get the experience, credibility, and confidence to enhance your career.
So what is the image that comes to mind when the word MNC appears? Is it a luxury job where you can travel internationally? But let us not forget that we live in a country where jobs are not easy and frequent considering working for a multinational company. However, working for a multinational company is not all that one can accomplish in his life. India gets many benefits from multinationals, such as a higher level of investment, reducing the technology gap, optimizing the use of natural resources and strengthening the economic infrastructure.

MNC FULL FORM - Multinational Corporation

Because of the growth of the Indian economy, globalization and its market potential, many multinational companies come to India to expand their business. Below is a list of the top 10 multinationals in India:


Top Multinational Corporations in India :

1. Microsoft: Microsoft Corporation India is a subsidiary of Microsoft Corporation, as we all know, it is an American multinational corporation (mnc company), started in 1975. Microsoft Corporation started its operations in 1990 and its headquarters in Hyderabad, India and since then it has worked in close cooperation with the government of India, as well as IT companies. In fact, it is one of the most popular companies in the list of Multinational Companies in India.

2. IBM: IBM (International Business Machines) is the second multinational company on our list of multinational companies in India based in Bangalore (IBM India Private Ltd). It started in 1992 in India and has credits with a range of products and services that include business consulting and storage solutions, software, hardware, Global Financing, etc.

3. Nestlé: The third on the list of multinational companies in India is Nestlé. Nestlé India, a food and beverage company in Switzerland, is part of Nestlé S.A. Nestlé entered the market in 1912 with improved products and is currently one of the leading multinational companies in India. It is considered one of the largest food companies in India with the best food products. It also ranked 72nd in the Fortune Global 500 ranking in 2014 based on revenue.

4. Procter & Gamble: Procter & Gamble (P&G) is a global multinational company, started by William Procter and James Gamble in 1837. P&G India is part of Procter and Gamble. The multinational arrived in India in 1964 and currently includes products like Olay, Gillette, Vicks, Tide, etc. It has a wide range of products that include beauty, health care, home care, etc.
5. Coca-Cola: Coca-Cola is another widely recognized multinational company in India and therefore it is listed in the list of best multinationals in India. Coco-cola, a non-alcoholic beverage manufacturing company founded by Asa Griggs Candler in 1886 and started operating in India in 1993. Coca-Cola's corporate office is located in Atlanta, Georgia and has revenues of US$ 45.998 billion. The company operates in India as a subsidiary of Coca-Cola India Private Ltd.

6. Pepsico: PepsiCo is also listed in the list of multinational companies in India as a well-known manufacturer of snacks and drinks. PepsiCo is an American company founded in 1965, operating in India through its subsidiary Pepsico India Holding Private Limited which is a leading company in the field of famous brands such as Lays, Pepsi, Slice, 7up, Cheetos, Doritos, Kurkure, and others.

7. CITI Group: Next in the list of multinational companies in India is the CITI Group, founded in 1998, which is an American banking services company. It operates in India through its subsidiary, Citibank, which currently has more than 40 branches in more than 30 cities. India has a corporate office in Manhattan, New York and has revenue of $ 76.88 billion. In India, it is based in Mumbai. Citibank has currently over 700 ATMs operating 24*7 in India. Interestingly, Citibank was formed by one of the largest mergers in history and now has the largest financial services in the world.

8. Sony Corporation: Sony Corporation is another well-known Japanese multinational company, established in 1946. Sony started operations in India 1994 and enjoyed seeing its products in several categories: Electronics, Media and Entertainment, Televisions, mobile phones, cameras, PlayStation, headphones, memory cards, etc. are the main products of Sony Corporation. It is headquartered in Delhi, India, with a total revenue of $ 153.683 billion USD.

9. Hewlett Packard: HP (Hewlett Packard) has also reached the list of top multinationals in India with their products ranging from laptops, monitors, desktops and other electronic items. HP started in 1939 with headquarters in Palo Alto, California, and has the highest revenue of $ 111.454 billion. HP, an American electronics and IT company, headquartered in Bangalore, India. HP produces a range of printers, digital cameras, scanners, PDAs, calculators, servers, workstation computers, home & small business computers. In 2002 HP produced many computers with its merger with Compaq.

10. Apple Inc: Apple Inc, which started small in 1976 currently sells world's leading laptops, phones, software, and various online services like Apple Music, iCloud, etc. Apple Inc. multinational company was founded in 1976. The company has been recognized by electronic consumers and some of its best-selling products, such as the iPhone, iPod, iPad, and Mac. This is one of the largest multinational companies in India which is developing and selling computers, laptops, software, and online services.

Thinking of getting a job post completing your MBA/BBA?

List of Top MNCs for MBA/BBA graduates:
Amazon
Wipro
Citi Group
Infosys
Cognizant
Accenture
List of Top MNCs for IT graduates:
Intel
TCS (Tata Consultancy Services)
Cognizant Technology Solutions
Google
IBM
SAP
Image Source: lookuptwice
Also Read: Top 10 Construction Companies in India in 2020