Licious: is an online platform that allows users to buy raw meat, chicken, lamb, seafood, marinades, eggs, spreads, and pickles.

"Love you Abhay Hanjura for pulling me into this, what a roller coaster ride. Can't imagine a meat venture 4 years old that too in India being showcased on Discovery channel now."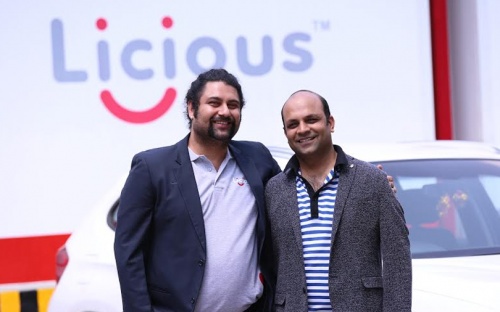 Licious - From a small idea between two friends in 2015 and today being showcased on Discovery channel

Just remembering Jan 2015 when I told Abhay, meat business can't be built in India and India is a vegetarian country. And Abhay's relentless effort to convince me of the opportunity. An eye-opening deck "The Meat project" which talks of $30Bn market, 95% unorganized, India being the world's 5th largest meat consuming country. And March 2015 we both resigning the same day "my resignation email copied from Abhay's, what to do he writes too well. His resignation was half a page email and mine would have been one-liner, ha ha ha"
July 2015, Mr. Pai scolding us and telling us we don't know anything and later giving us a cheque. Still could not figure out Kanwal even evaluated us properly or just gave me money because he had no choice. The first launch in August failed, and operations shut down on the day of launch, relaunch after 15 days with 30 orders on Day 1 "Fact is most of the orders were free". Sep 2015 full month of operations with 1300 orders and then next month 90% of customers came back and bought. Nov 2015, bank balance was Rs 1 cr and Abhay signing marketing campaign of 25L, gave me jitter in stomach.
Nov 2015, Mayfield fast forward meetings and our first term sheet in 5 days. Life as an entrepreneur was going super cool. Reality hit in 2017 when we went to raise B round and to my surprise investors still had no belief in the meat story of India. I think they were still thinking like Vivek of 2015. Aman (CFO) asking me and Abhay to redeem personal funds to pay salary and 27 days 42 flights 30 odd meetings with investors, repeating our passion and story patiently, persistently. Investors used to ask for a call, and we used to tell them we are in their city for some other work because we thought personal meetings make more impact. One investor who was closing to commit investment pulled out last minute as their investors was a Gujarati and stopped fund from investing in meat business. Abhay asked me jokingly whether the full form of VC is "vegetarian Capital". Trust me this joke was not bringing a smile on our faces because nothing was working. Everything broke inside us, our dream was shattering and all the people who stopped us for not doing meat business in India were getting ready to laugh on us. Even days were dark without sunlight for us, and suddenly realized one fact of life "No one is a friend of failing founder". Thank God some powers are still there which we are invisible and some investors who told us NO, called us back and there was some hope. Boat started sailing back, but this time lesson was money should never get over, one more lesson was "Money is the only friend in bad times"
2018 year of execution, 100 odd days of travel across India. Raising more money, this time double than what we really needed. One interesting thing, even after scale I am not too sure whether Investors believe meat stories of India. It always makes me think that "is me and Abhay too biased about Licious" But then I go back and again look at the facts of India
Among the developing and developed nations, India meat consumption is the lowest
80% of Indian's are protein deficient
China's journey of meat consumption growing from 4kg per capita to 62 kg per capita in 50 years. Will anyone believe India and China's meat consumption was the same at some point.
India is the world's second-largest fish exporter, 10% of Indian forex Income comes from fish export and so many more facts.
Cut to today, Licious having Investors from Japan, Korea, Singapore, India, Mauritius, Russia, Germany, and the United States. Thanks to all the lovely customers who have got us here.

This journey would not have been possible without lovely people in the team, being with us through thick and thin. This article will not be complete without calling few names Joe, Aman, Rajesh, Varun, Vineet, Sami, Wren, Yash, Pratik, Arjun, Bhaskar, Satyendra, Gaurav, and all other 2000 Licians.

Please don's miss Licious coverage on Discovery, where we talked about our journey and many interesting things about the meat ecosystem of India, showcased first time Licious backend where we process meats and how Licious has built world-class processing center which we have only talked on our packaging. I was always thinking can I invite all our customers to visit our plants, but today Discovery channel is making it happen.

What a fun team of discovery, thanks to them I experienced what goes behind the camera. HERE IS A TEASER AND TIMING OF THE PROGRAMME



Source: Vivek Gupta - Linkedin

Also Read: Tiktok parent Bytedance introduces music app Resso for India