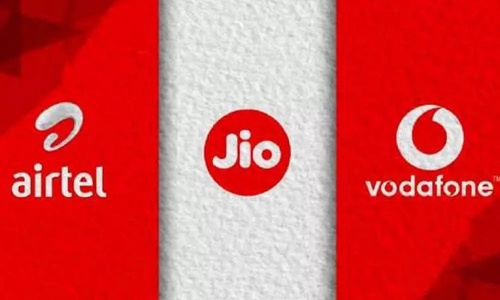 Telecom companies Bharti Airtel, Vodafone-Idea and Jio on Sunday announced new plans under which call and data charges will be more expensive for their customers. "The new Airtel plans represent a price increase of 50 paise per day to Rs. 2.85 per day and offer generous data and call benefits.
These new rates will apply from Tuesday, December 3rd, 2019. "

It has announced new plans in the "Unlimited" category with 2, 28, 84 and 365 days of validity, which when calculated appears at a higher price of 41.14 per cent.

Bharti Airtel and Vodafone Idea customers must pay a minimum of Rs 49 to stay in touch for about a month after December 3rd.

Like Vodafone Idea, Bharti Airtel has also restricted outgoing calls that can be made on another carrier's network. Up to 1,000 minutes if there are 28-day plans, 3,000 in 84 days, and 12,000 in 365 days. After this limit, the customer must pay 6 paise per minute for outgoing calls.

The company announced a 41.14 per cent increase in its annual unlimited category plan, which costs Rs 2,398 instead of 1,699 today. The initial plan, which includes a data offer of 1.5 GB per day with a validity of 84 days in the "Unlimited" category, will cost about 31 per cent more by Rs 598 compared to Rs 458 today. The company will raise the price of the unlimited plan from Rs 199, which provides data of 1.5 GB per day, by approximately 25 per cent to Rs 248.

Jio will increase the number of mobile phone calls, and data charges up to 40% as of December 6. Reliance Jio said on Sunday that it will launch new unlimited plans starting December 6, which will increase the voice and data rate by up to 40 per cent.
However, the company led by Mukesh Ambani said customers would receive additional benefits of up to 300 per cent under the new plans and would introduce a policy of fair use of calls from subscribers to other operators.

"Jio will provide all-in-one plans with unlimited voice and data. These plans will have a policy of fair use of calls to other mobile networks. The new plans will be effective from December 6, 2019," the company said in a statement. statement. statement.

Geo said he would continue to work with the government in the consultation process to review telecommunications prices and looked forward to the participation of all other stakeholders. The movement of the three companies follows the Supreme Court's decision on adjusted gross income.

Bharti Airtel posted a stunning net loss of Rs.23,045 million in the second quarter ending September 30, due to saving of Rs 28,450 million following SC decision on legal fees.

According to government data, total liabilities in the case of Bharti Airtel amounted to approximately Rs. 35,586 million, of which Rs. 21,682 million were license fees and Rs.
At present, the government is not considering any proposal on exemption of fines and interest on outstanding license fees based on adjusted gross income (AGR), or on extending the deadlines for telecommunications companies to pay their legal fees.

Image Source - TheHansIndia
Also Read: Mukesh Ambani jumps 4 spots to become world's 9th richest person