Reliance Industries (RIL) became the first of the listed companies to reach a market value (mcap) of Rs. 10 lakh crore. The stock rose 0.74 per cent during the day and hit a record high of Rs. 1581.25 on the Bombay Stock Exchange.

The company has become so large that it resembles the current mcap of 19 Nifty companies or 35 PSUs, banks or all components of the Nifty250 list.
In dollar terms, the mcap reached $ 140 billion, higher than Total SA's $ 127.96 billion and significantly higher compared to $ 99.57 billion of BP. ($ 1 = 71.46 rupees)

The stock was one of the top 10 gainers, up 10 per cent last month, 24 per cent in three months and 40 per cent last year.

RIL was trading at 1.579 rupees, up to 9.25 rupees, or 0.59 per cent on the Bombay Stock Exchange at 10:12 hours IST.

Here is the market capitalization of RIL: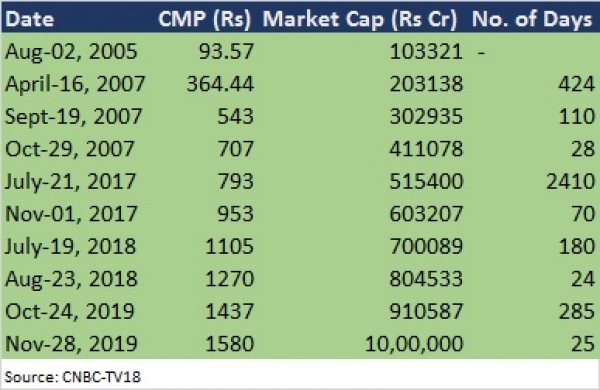 RIL is India's largest and most profitable private sector company and remains an important player in the global integrated energy value chain.

The main reasons for stock recovery are a debt reduction plan, perhaps an increase in interest rates and an increased focus on consumer business.

Last month, RIL agreed to form a wholly-owned subsidiary.
(WOS) for digital platform initiatives, he said that Reliance Jio Infocomm (Jio) will become a truly debt-free company by the end of fiscal year 2020, excluding spectrum obligations.

Its retail business has grown exponentially, reporting a 7-fold increase in revenue and a 14-fold increase in profits over the past six years.

Jio has already become the largest operator in India and continues to register more than 10 million new customers every month. On November 19, it said it would increase rates and data charges in the coming weeks.

The two consumer companies now collectively contribute about 32 per cent to consolidated EBITDA, compared with 2 per cent five years ago. Management aims to have 50% share in the coming years.


Based on RIL's current and new growth drivers, management is confident that this will increase by 15 per cent annually over the next five years.

Both RIL and Saudi Aramco have agreed to a non-binding letter of intent (LOI), where the latter could acquire a 20 per cent stake in the "oil to chemicals" division with a commercial value of $ 75 billion. In fact, Saudi Aramco also mentioned this investment in the IPO.

RIL has received significant interest from strategic and financial investors in its consumer business, Jio and Reliance Retail. The company will urge the world's leading partners in these companies in the coming quarters and will move towards listing the two companies in the next five years, which will open up significant value.

Maintaining the extra weight at RIL, global broker Morgan Stanley said last week that its target price for upward cash is Rs. 2,000 (27% upside potential from current levels) in the hope of obtaining higher refinery margins, possible increase in telecommunications rates, bottom P / E cycle, start-up of gas production, low capital expenditure and continuous debt reduction.

"As the investment cycle peaks, we expect ROI to improve in the future. Jio is now ready to implement other revenue drivers: IOT, home broadband, commercial and broadband service For SMEs, the company will start earning revenue from these companies from the financial year 2020 ".

The broker expects the new market qualification due to its strong growth in retail profitability and strong profitability in the digital services business.

In the future, Sharekhan believes that there will be more incentives for revaluation, such as the devaluation of the balance sheet (the goal of becoming a net-zero debt company by March 2020) and opening up the value of retail businesses and digital services.


Also read: WhatsApp new feature that allows multiple access single account