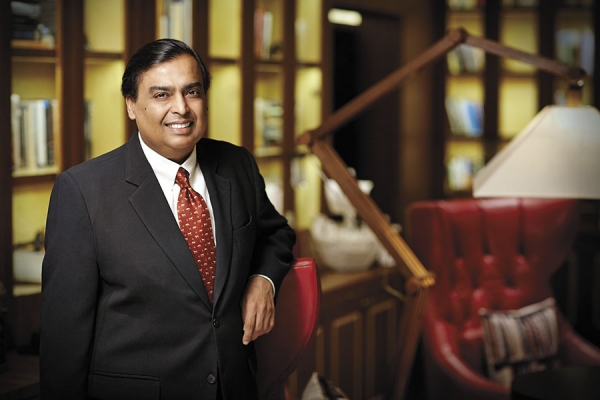 Reliance Industries Limited (RIL)Chairman and India's richest man, Mukesh Ambani jumps 4 spots and has surpassed the founders of Google, Larry Page and Sergey Brin to become the 9th richest person in the world, according to Forbes. Ambani's net worth rose when Reliance Industries Limited on Thursday (28 November, 2109) became the first Indian company to reach a market value of Rs. 10 lakh crore.
Ambani jumps 4 spots when his net worth rose to $60.5 billion today. RIL's market capitalization led by Mukesh Ambani exceeded Rs. 10 crore in the morning after its shares rose to 0.75% to a high of Rs.1,581. As of 10:30 am, Reliance Industries Limited shares were trading 0.50 per cent higher, at Rs.1,577.85.

The company took 22 sessions to move from Rs 9 lakh crore to Rs 10 lakh crore mark, and 20 sessions to cover the distance from Rs 8 lakh crore to Rs 9 lakh crore. Due to a 40% increase in RIL shares, Mukesh Ambani's fortune has increased by $ 15.7 billion so far in 2019.

According to Forbes, Ambani is now ahead of Google's founders, Larry Page and Sergey Brin, whose net profit is $ 59.6 billion and $ 57.7 billion, respectively. The founder of Reliance is ahead of L'Oreal's Francoise Bettencourt, Michael Bloomberg of Bloomberg LP, Jack Ma of Alibaba and Jim of Walmart, Alice and Rob Walton of Walmart.
In fact, he is the fourth-best attainer, after Jeff Bezos, Mark Zuckerberg and Jack Ma on Thursday. Ambani's ranking surpassed Berkshire Hathaway president Warren Buffett.

Ambani has risen four places since Forbes launched the rich list in March this year. When the list was published, he ranked 13th with $50 billion net worth. From March to nearly December, Ambani's net worth increased by $10 billion.

Larry Page and Sergey Brin are in 10th and 11th place respectively. Jeff Bezos leads the list, followed by Bernard Arnaud and his family, Bill Gates, Warren Buffett, Mark Zuckerberg, Larry Ellison, Amancio Ortega, Carlos Slim Helu and his family, Mukesh Ambani and Larry Page.


Also Read: Reliance Industries Limited reaches 10 lakh crore market cap